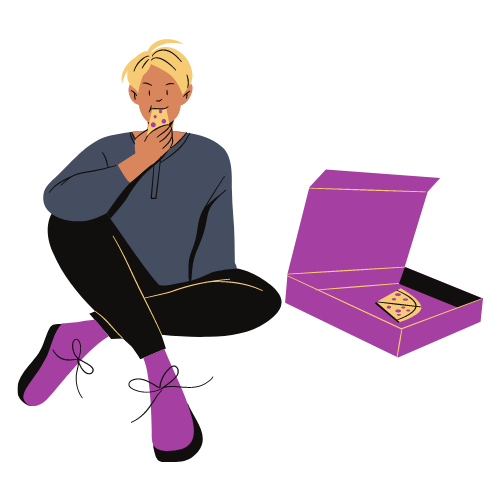 Beetle Juice Cocktail Bar
The Beetle Juice tale started in 2012 in Farnham, Surrey, when brothers Julian and Jonny, and our friend Harry, had the idea of converting a 1970's VW van into a cocktail bar to 'take the party to the people'. We always threw big parties at our house and thought we were pretty good at it. As we couldn't afford property to open our own we decided to create a pop-up that was brought to people. Since we started 5 years ago we've grown and built a fleet of 15 vans that cover the UK doing a variety of different events from small festivals with a few thousand to big festivals of 100,000 people +. We make all our cocktails fresh offering something different from the big units that pump out beer and wine..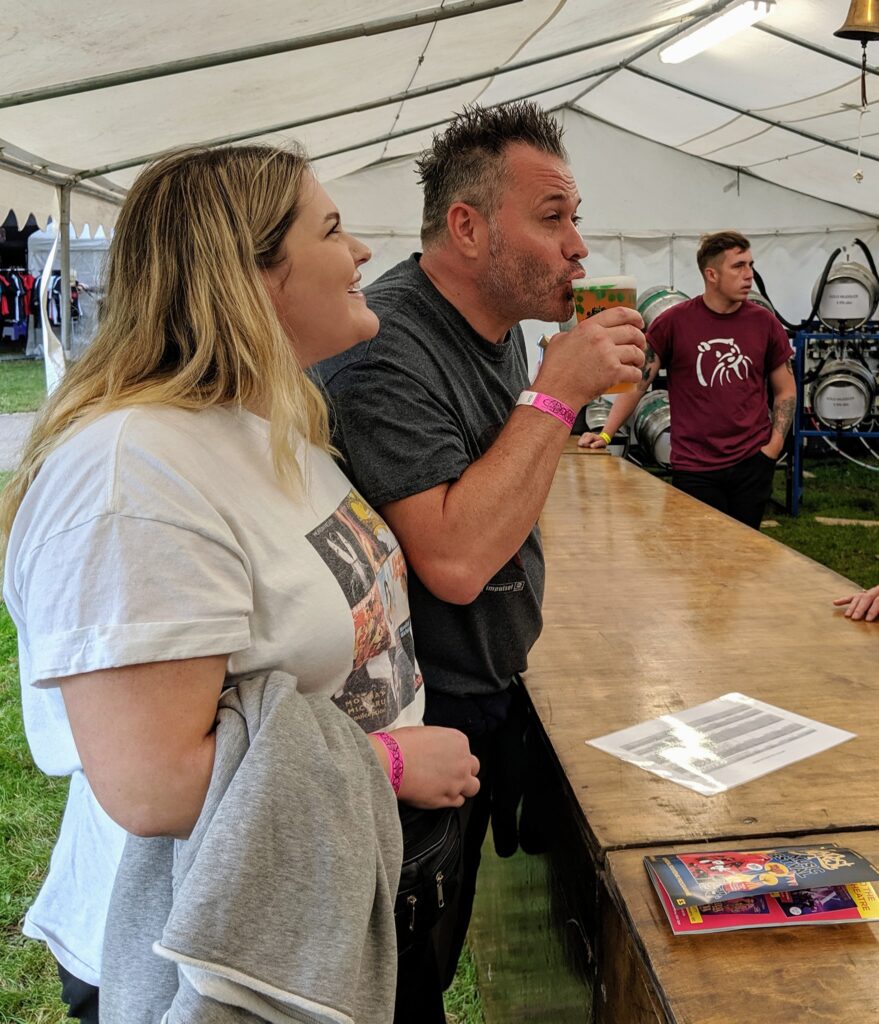 Dickie and his team have been serving Weyfest customers for many years now with a selection of wonderful real ales, lager and ciders as well as fine wines and a VIP champagne area. The beer quality is legendary and service is always fast and with a smile. Bars will be available next to all the main stages. No long queues to get a drink at Weyfest 🙂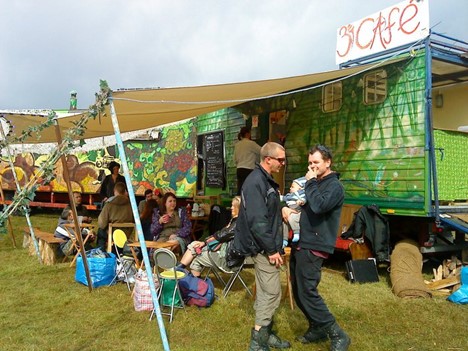 Returning to the campsite, Vanessa and her crew will be back to offer a hearty start to the morning and to make sure that campers in the campsite are catered for during the day. Offering Breakfast, Jacket Potatoes, Coffee & Teas and other homemade delights
Traditional Jacket Potatoes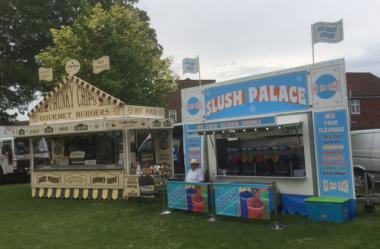 We welcome back top quality traditional hot jacket potatoes with a wide selection of healthy toppings both hot and cold and then there are our traditional chunky chips, plain or with our special toppings i.e. curry chips, chilli chips or cheesy chips, whilst also serving hot drinks including tea, coffee, cappuccino and hot chocolate. We also stock cold drinks, bottled mineral water, plus we have a slush puppy machine and candy floss for the whole family.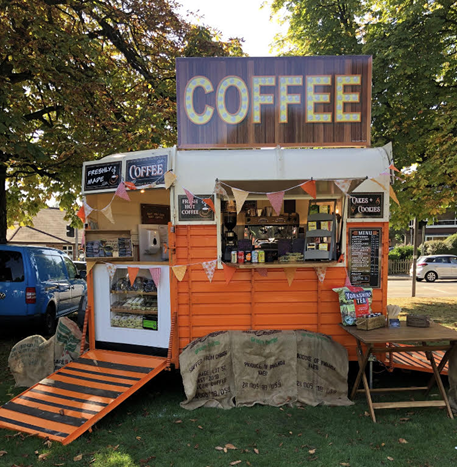 We are a small local family run business based in Headley Down Hampshire boarding Surrey. We sell freshly ground coffee, specialty tea, hot chocolate, a variety of cakes and cookies. We offer a range of milks including dairy and non-dairy alternatives, so there's something for everyone. We have a variety of teas including green teas, fruit teas and of course the classic Yorkshire tea! All of our cups, lids and stirrers are biodegradable. We pride ourselves of providing first class service producing great coffee all served form our vintage rice horse box.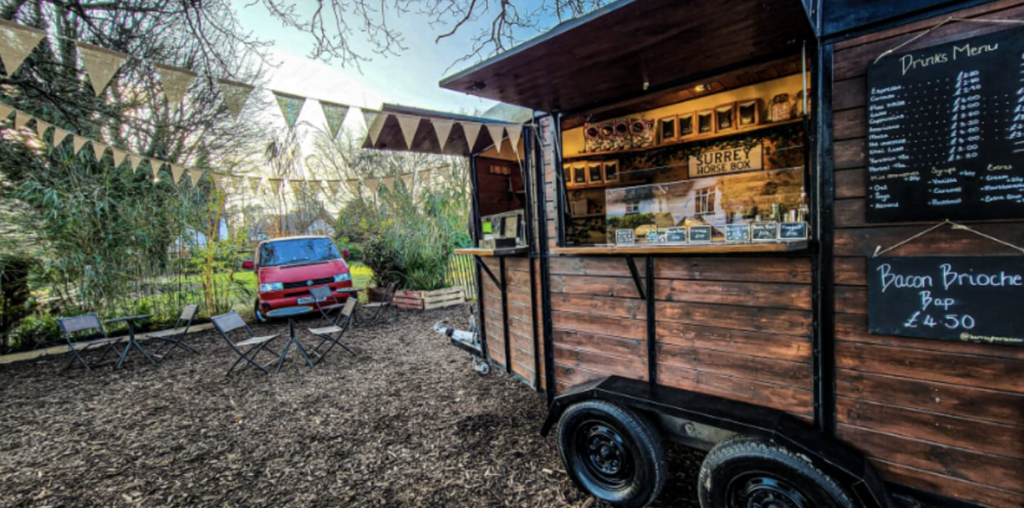 We are Surrey Horse Box, a local coffee bar run from a vintage horse box. Serving Haslemeres very own Pact Coffee, brioche bacon baps and yummy cakes.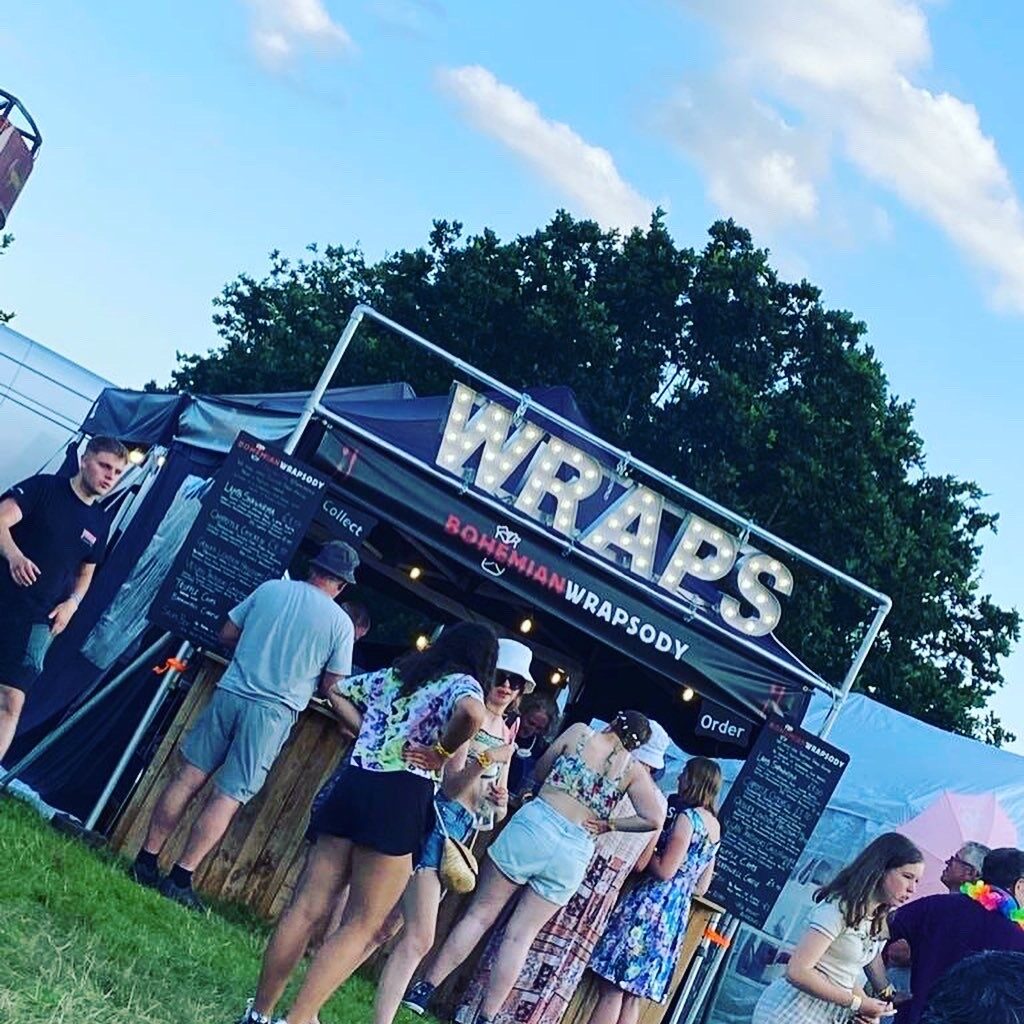 Bohemian Wrapsody is all about high quality, delicious wraps, using only local free-range meat and local cheese to create authentic recipes from across the world. Our USP is that we use exceptionally high quality, locally sourced British meat, cheese & bread. Our chicken comes from Lockey Farm in Berkshire and is Free-range, our lamb comes from the South Downs National Park and is Free-range. Our award winning 'Halloumi' is made in North London. Our authentic Lebanese Flat Bread (Khubz) is baked fresh for us overnight giving us super fresh, soft breads. Where possible, other ingredients are sourced from the UK. We believe in supporting British producers, farmers and suppliers so we source as much of our food from Great Britain as we can. We've worked really closely with our Butchers, Cheese Suppliers, and our Fruit & Veg suppliers so that we're as local as possible and get top quality produce! Eco Friendly – All of our food is served in Eco Friendly bio degradable or compostable material. We know how much waste the industry creates; we want to be part of helping to make sure the industry minimises its impact.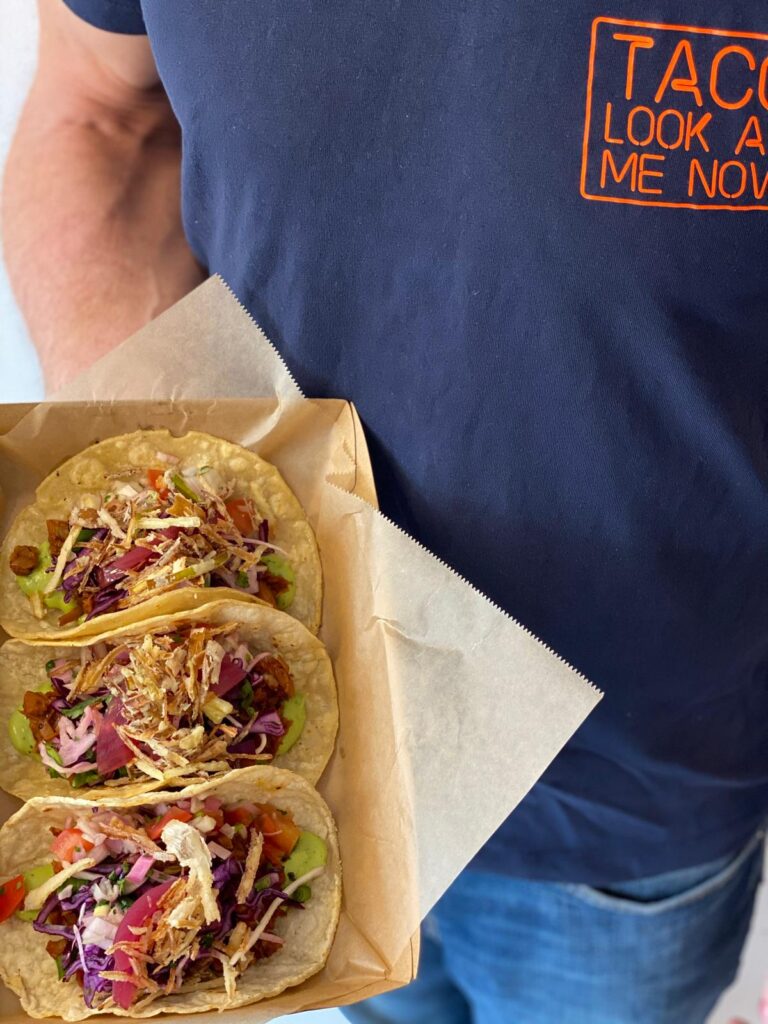 In 2020, when co-owners Claudia Pitts and Simon Feurstein launched their street food trailer in Sussex, they got straight to the point with the name…. After an evening of tacos, listening to their old friend Mr Phill Collins and a few margaritas an idea crystallised… we should sell these…. a few months later, boom Taco Look at Me Now was born! Their love for tacos has lead them to open a street food trailer dedicated to tacos. Their main goal to make authentic Mexican mouth-watering combinations with the added bonus of being completely gluten free.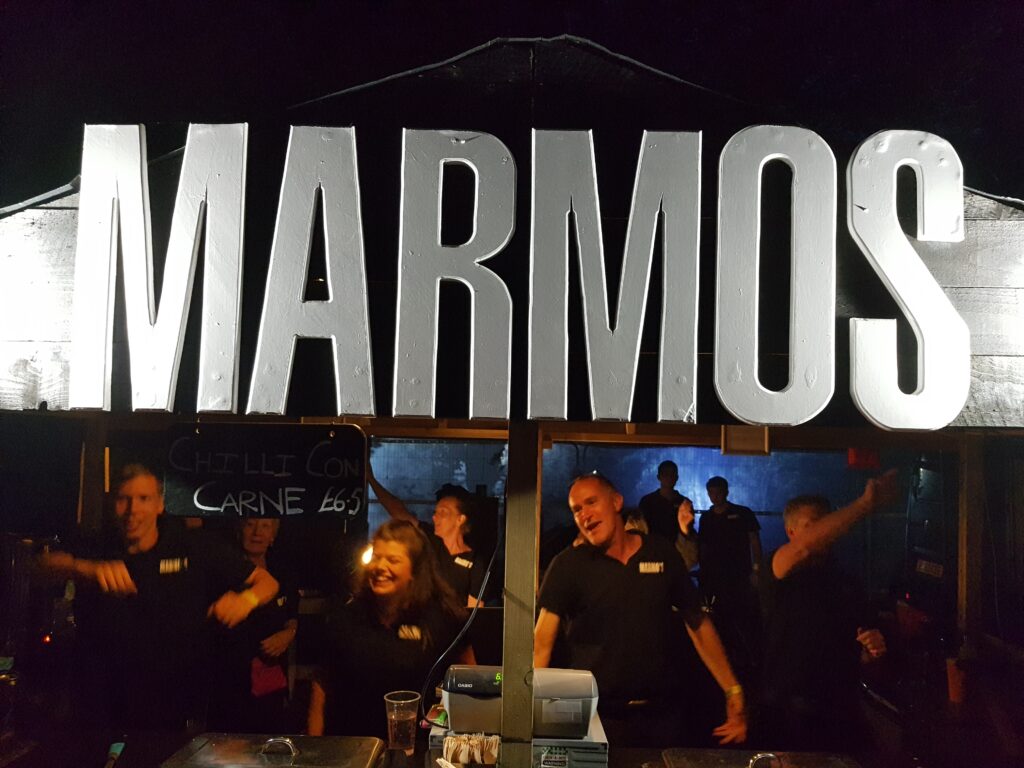 What can we say, they have been a part of Weyfest since the start. Andy the boss, affectionately known as Andy Fireworks and his good wife Rachael have been providing excellent meals such as their mouth watering and heart warming Chilli, Hungarian Goulash and South African Curry. All these meals are made fresh on site and cooked slowly from the early hours in the morning ready for opening time for the Festival public. Marmos also provide their own style of entertainment when the artists are performing on stage in the evenings, go along and sample some of their fine food and enjoy their own style of showbiz.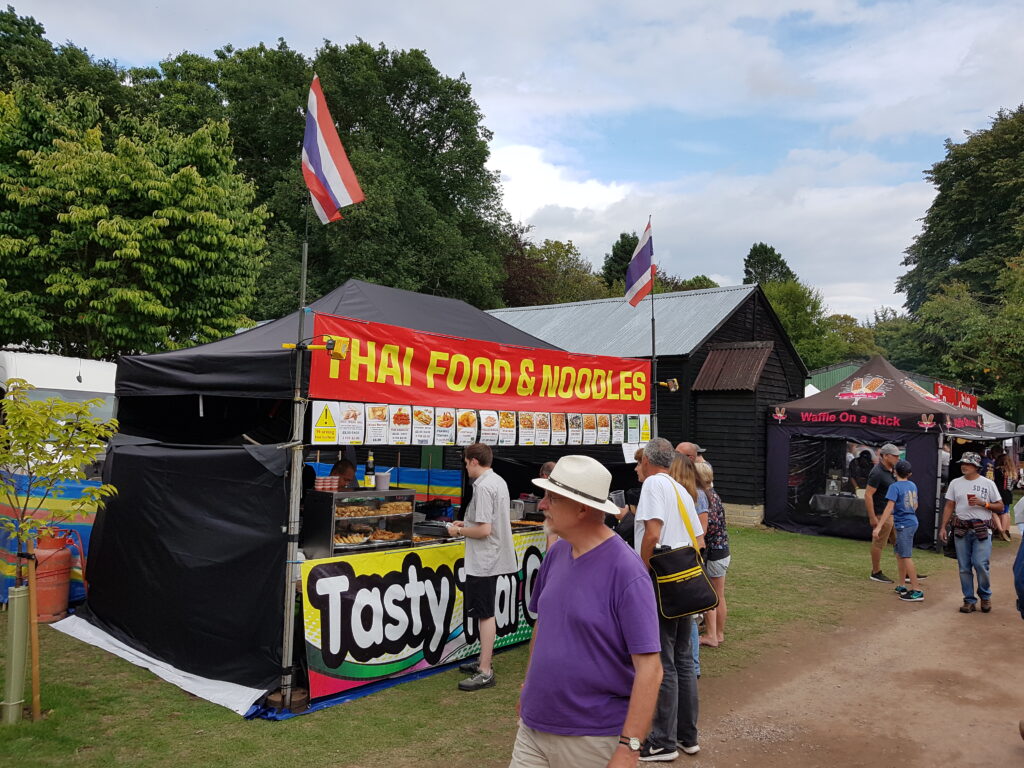 Aerie wife Suda have been part of the Weyfest Family for many years. They cook nice and simple and tasty Thai food. Uusally the longest queue at Weyfest which speaks for itself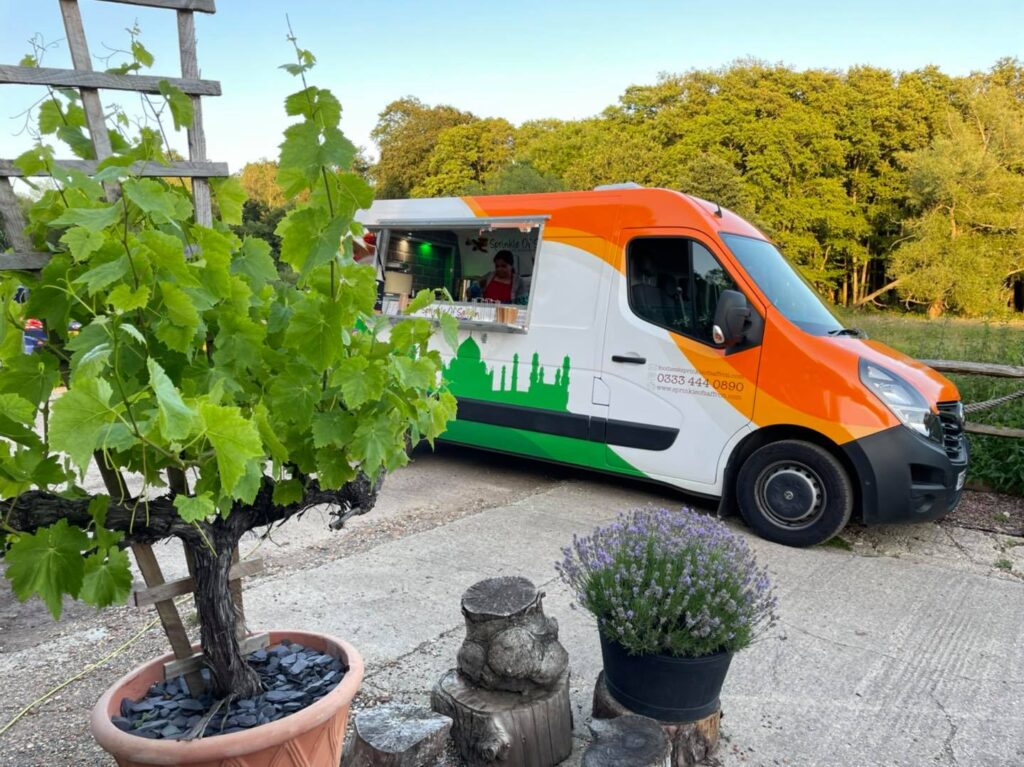 Sprinkle of Saffron aims to raise awareness about "contemporary" Indian food, that is: 100% free from any artificial colours, flavours or preservatives. We thrive and vouch for the great taste & excellent quality of our food. In simple terms, as a family of Indian origin, it is the food that we would eat at home every day. Nutritional value is another critical element. Therefore a healthy spread of protein, carbohydrates & fats in each portion is at the core of our products. All this without compromising any of the authentic Indian flavours.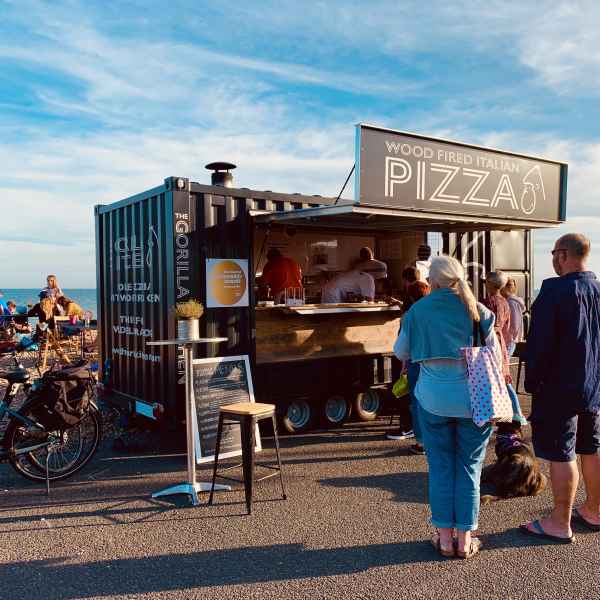 In 2014 Roberto & Fiona combined their skill and passion for Mediterranean food and way of life and created The Gorilla Kitchen
– a go-anywhere outdoor pizzeria for fun alfresco eating.
 "Starting with great ingredients is everything to us. We source them from artisan producers in Calabria, Umbria and in our home county of Sussex. From a small holding in the far south of Italy we get fragrant wild oregano which has been picked by hand. They also supply our spicy nduja, a soft salami paste, packed with paprika
and chilli, which is a speciality of the village of Spillinga. We now collaborate with the organic family farm, San Felicissimo
in Umbria. We use and sell their amazing single-estate organic olive oil and their hand-made salami produced from a small
herd of free-range pigs. Using fantastic ingredients and keeping it simple is what it's about"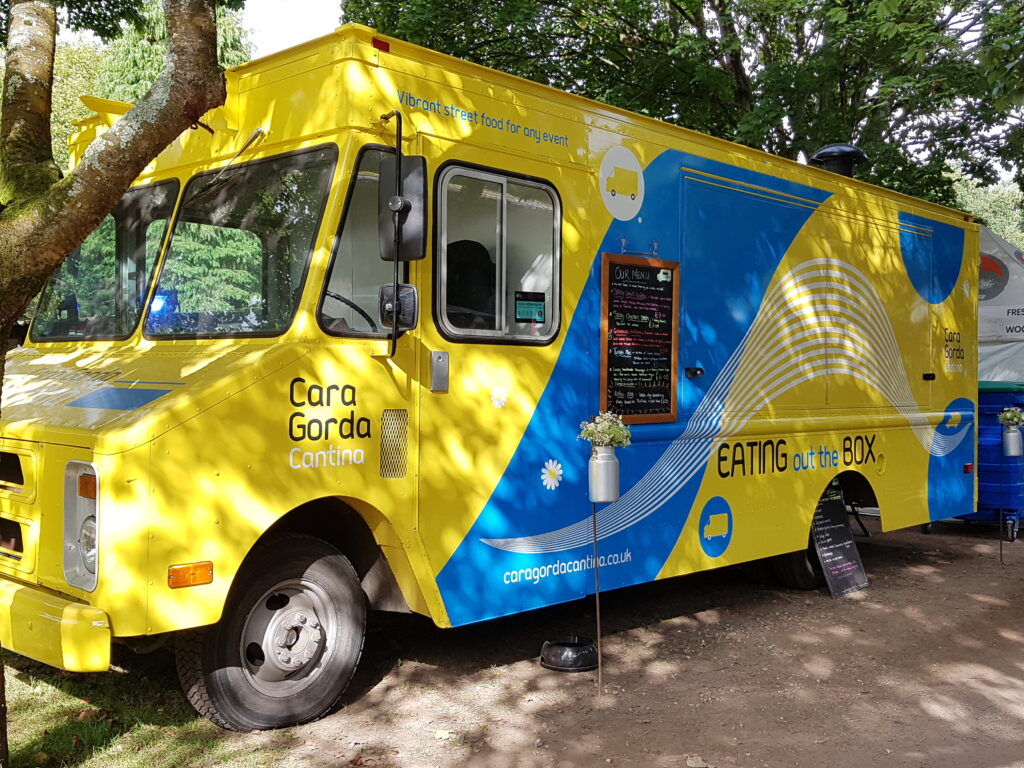 We welcome back to Weyfest our vibrant street food truck the "Cara Gorda Cantina" which serves a unique, chilled out spicy explosion of our delicious, healthy and freshly made food all made with love and served in a box for any event. With regards to sustainability, all food and is served in compostable sundries and all other items are sustainable, there are no single use plastics used.
We create our Lamb Kofta's & Chicken Shish's with traditional spices from our Artisan Spice House in Turkey, along with Fresh, Natural ingredients, made with passion by us and all cooked in front of you.
Here are some of their tasty menu items:
CANTINA'S LAMB KOFTAS
CARA GORDA CHICKEN SHISH
CHILDREN'S SAUSAGE IN A BOX
GRIDDLED HALLOUMI – V
HALLOUMI BURGERS WITH SWEET CHILLI SAUCE – V
SPICY LAMB BURGERS
LEBANESE BEEF BURGERS
Most of our food is Gluten free, please ask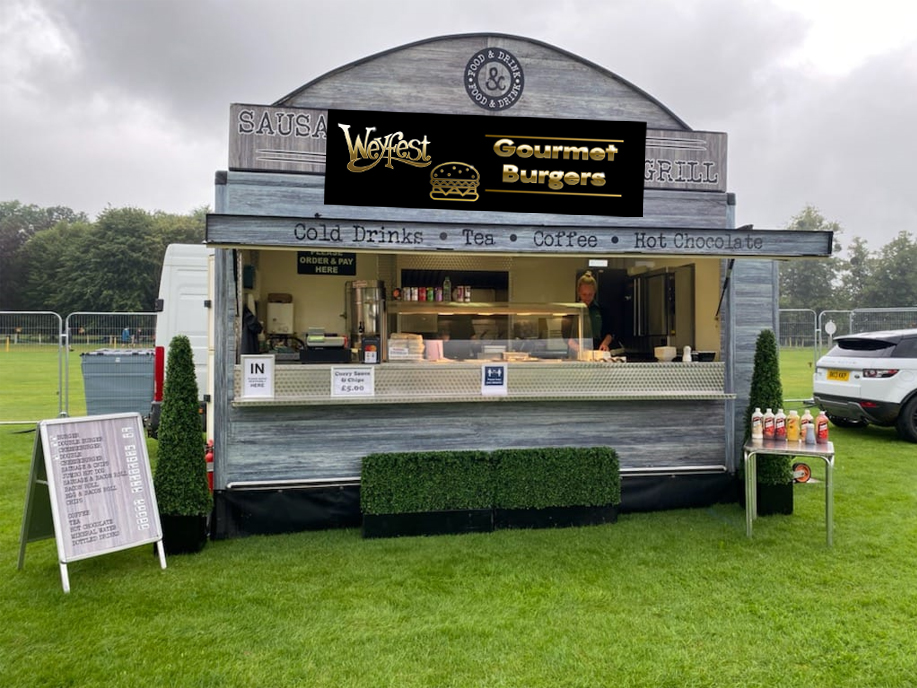 SW Catering is a small independent outside catering company based in West Sussex that has traded for over 27 years. We cater at a variety of events all over West Sussex and beyond. We always try to use locally sourced products and at Weyfest we will be serving Turners Burgers. We also provide vegetarian, vegan and gluten free options. Our aim is to provide exceptional, tasty food that is served with enthusiasm and love.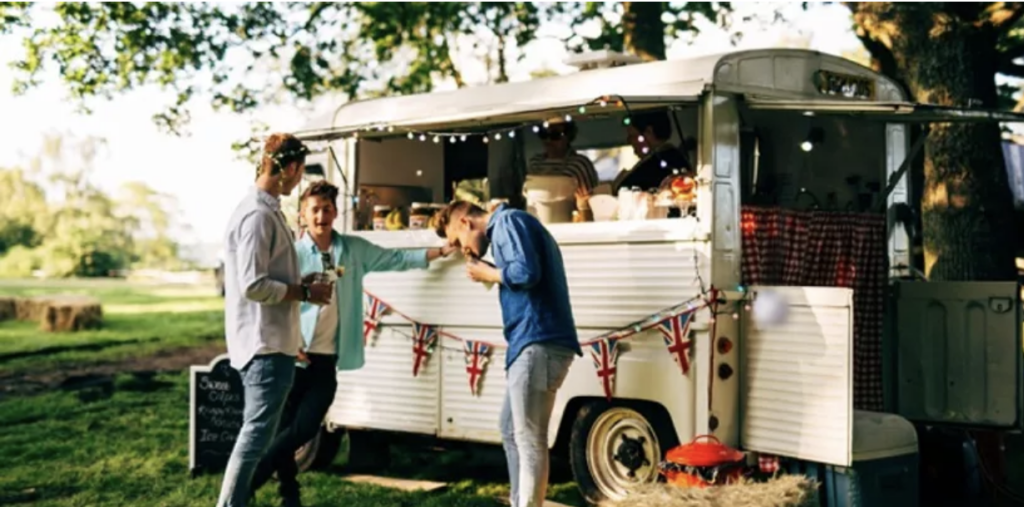 Cripes It's Crêpes serve (you guessed it) delicious crêpes from their beautiful vintage 1978 Citroen H Van throughout Surrey, Kent, Sussex and London.

Their crêpes are delicious, filling and made with love.
The fillings include the ever-popular Nutella with strawberries or banana, bacon and maple syrup, lemon and sugar,
cinnamon and sweet apple, vintage ham and cheese, mozzarella, pesto and sundried tomatoes, cheddar and spinach and many more!

The team have catered for the cast and crew of Star Wars as well as feeding the likes of Peter Crouch and Bruce Springsteen.
They have also served their delicious crepes at events with Channel 4, Pinewood Studios, LIDL UK, Sister Pictures,
Ann Summers and more and can't wait to serve more hungry mouths at Weyfest this year!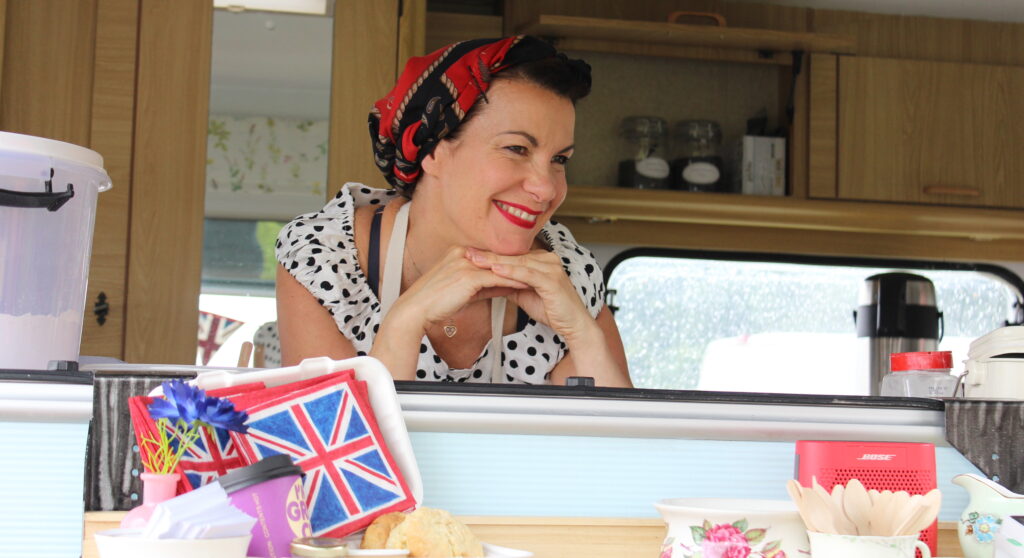 We are Mel and Mike, owners of Mel's Marvellous cakes and Mel's Marvellous Teashop, the vintage blue caravan that you will see in the main stage arena this year. This year we have liaised wih Jo (Jo's Big Mug) to make sure the "Big Mug" experience you all love is recreated with Mel's unique touch. Jo may even come and help out!
We are a vintage café serving cream tea, cakes and sandwiches the old-fashioned way. Everything is baked by us and we love to experiment with seasonal flavours. We also love 1940's style and so we like to dress up and recreate the street party vibe of the good old days. Our little business started in 2019 during lockdown when we upcycled a much-loved family caravan into a mobile kitchen. A 5 hygiene rating, several farmer's markets and a whole bunch of crockery later and here we are at Weyfest for the second year running. Veteran Weyfesters may have joined us last year in the Old Kiln Stage area where we became firm friends with this gorgeous festival. What a great place to have our teashop! A visit to the caravan is a step into the world of Mel's Marvellous Cakes where you can find Mel baking and serving customers and Mike prepping food and fixing all the bits of the caravan that drop off during transit! He also makes a mean cup of loose leaf tea and he's excellent at grinding coffee beans. Alongside the Weyfest environmental ethos, we are determined eco-warriors and so you will find us using compostable take away packaging, continuing the tradition of mug-hire and recycling as much as possible. Our menu includes loose leaf tea, freshly ground coffee, toasted sandwiches, cakes and cream teas. We include treats suitable for all you lovely vegan and gluten-free party people too. So, we look forward to seeing you at the caravan where you can either grab a take away, a mug or book a table in our vintage café area. Our dancing shoes are ready and waiting!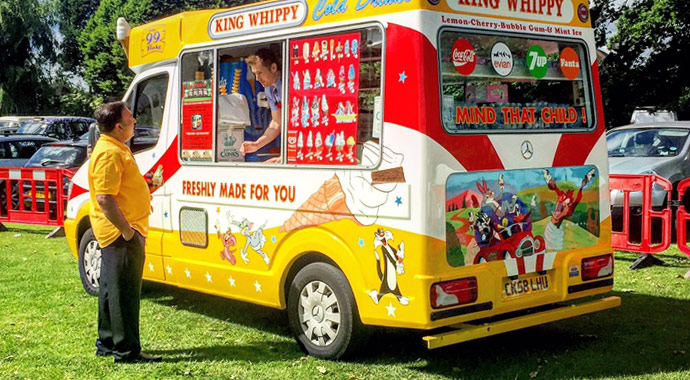 Surrey Ices UK are a family run catering business and have been part of the ice cream industry for over two decades. We can cater for venues throughout London and the South East, from one van to a fleet of up to ten vans, including our favourite Antique 1950's Ice Cream Van. Our ice creams are handmade and chosen from our finest suppliers Callestick Farm in Cornwall and also all the way from Sicily. We serve a variety of mouthwatering ice cream flavours as well as the classic favourite "Mr Whippy". We also have a choice of sorbets and ice lollies to suit all tastes. We supply ice cream vans for many organisations, we are also sponsored by Walls, so our vans are all environmentally friendly and will reduce CO2 emissions and air pollution. We are constantly looking at new ways to make our vans more Eco-friendly.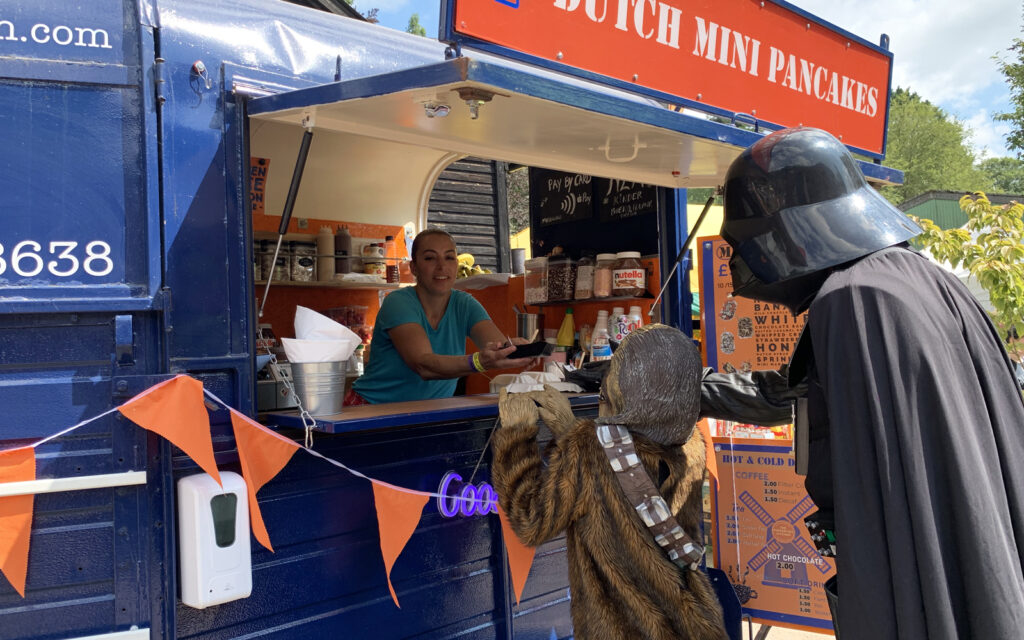 From the country known for its windmills, clogs, cheese and bikes, The Poffertjes Kitchen is excited to now share with you
another one of its treasures and well kept secrets. The oh so delicious and scrumptious treat called poffertjes, or
Dutch mini pancakes as they are known outside the Netherlands.The Poffertjes Kitchen is a mobile catering service providing freshly made, hot off-the-griddle, Dutch mini pancakes on location. The Poffertjes Kitchen is a family run business with
a Dutch founder who grew up enjoying this delicious treat. The Poffertjes Kitchen has become a popular fixture at small and local events, farmer's markets, Christmas fairs and various large music festivals. The word 'Poffertjes' [ poh-fur-jus ] refers to tasty baby pancake puffs, traditionally served with melted butter and a dusting
of powdered sugar. However, at the Poffertjes Kitchen we also offer a variety of sweet toppings to please our customers
even more.
Nothing compares to freshly made, hot off-the-griddle Dutch mini pancakes, served with a smile and a selection of hot and
cold drinks.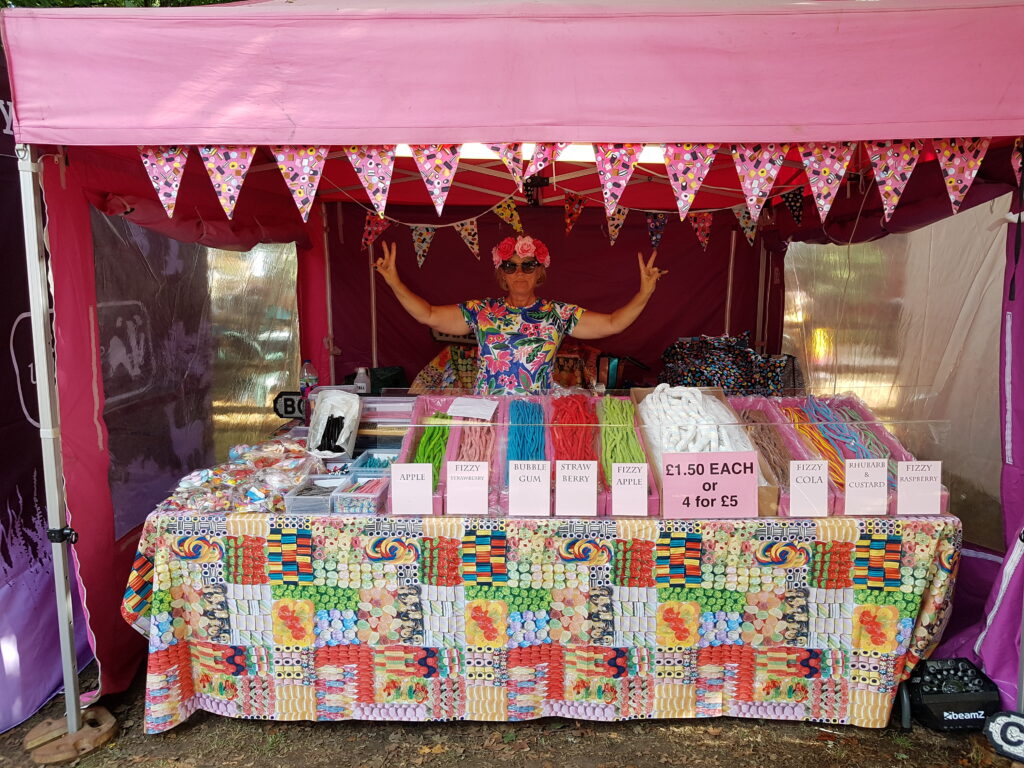 Yum Yums have a lovely sweetie stall selling 10 varieties of long cables and retro sweets my instagram is yumyumsweeties.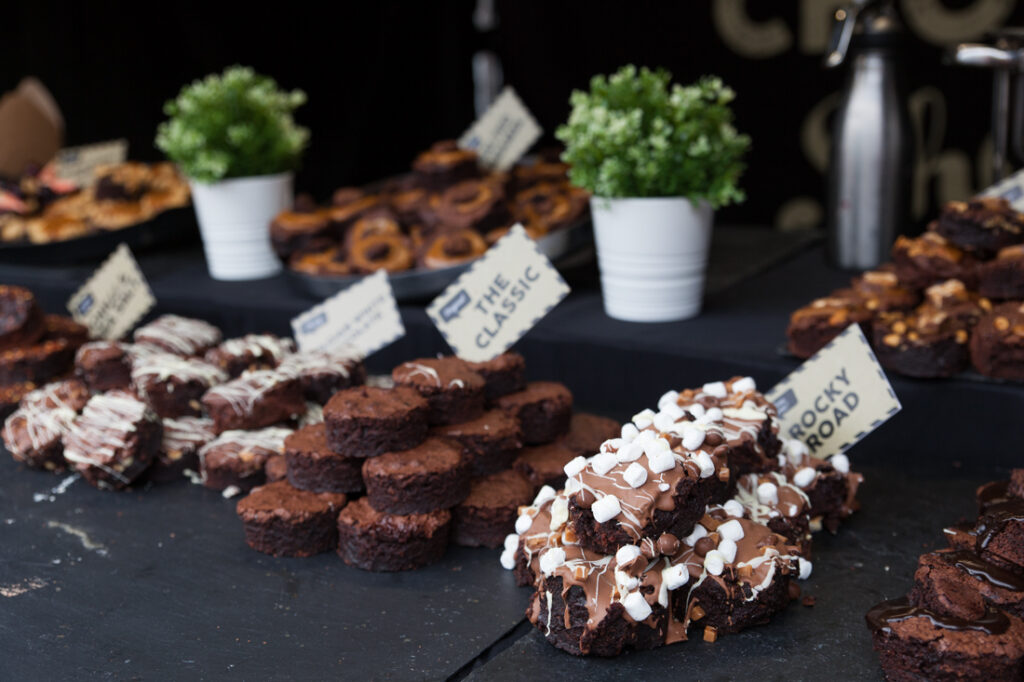 We specialise in creating delicious, Artisan Belgian chocolate brownies. Chock Shop use the best quality ingredients to create our amazing flavours such as Salted Caramel, Rocky Road, Belgian white chocolate, Peanut Butter,Raspberry and white chocolate and many more to choose from. All our brownies are handmade and hand-cut and always freshly baked never frozen.They are round for a reason you get the best part ,no dried edges. We have thousands of satisfied customers who keep coming back for more.
A magical stall with an eastern feel. My name is Wendy smith and I started my business in 2011. I first attended Weyfest in 2012 and have returned every  year.
I love Weyfest – the fact that it is set in the Rual Life Centre just makes the festival even more magical.
I remember when I first attended  Weyfest that I was stuck at how pretty it was and with the festival set among the trees, with the fairy lights it just sparkled and I knew it was going to be an amazing festival.  I have meet fantastic people at Weyfest from all different walks of life, all with a story to tell.  I am really looking forward to being part of Weyfest again this year and seeing you all again.
Most of you will know me for my novelty felt slippers,  don't worry they will be with me again this year, I also have a new exciting collection of  clothes not seen before at Weyfest.
Established over 12 years on the UK music festival circuit,this is the place that stocks everything you forgot to bring. And everything you didn't realize you needed! A huge sigh of relief, in a field full of crazy people, miles from anywhere, where you can actually begin to get your life together again.
Filled with useful stuff, camping supplies, everyday household items, medicines, sun creams, rain gear, camp-kitchen; breakfast ingredients, fresh bread & milk daily, snacks, cold drinks, bodycare, sanitary products, its all here. And it's a wholefood shop, so you'll find plenty of organic, healthy
alternatives to the things we've also got that you're trying to give up!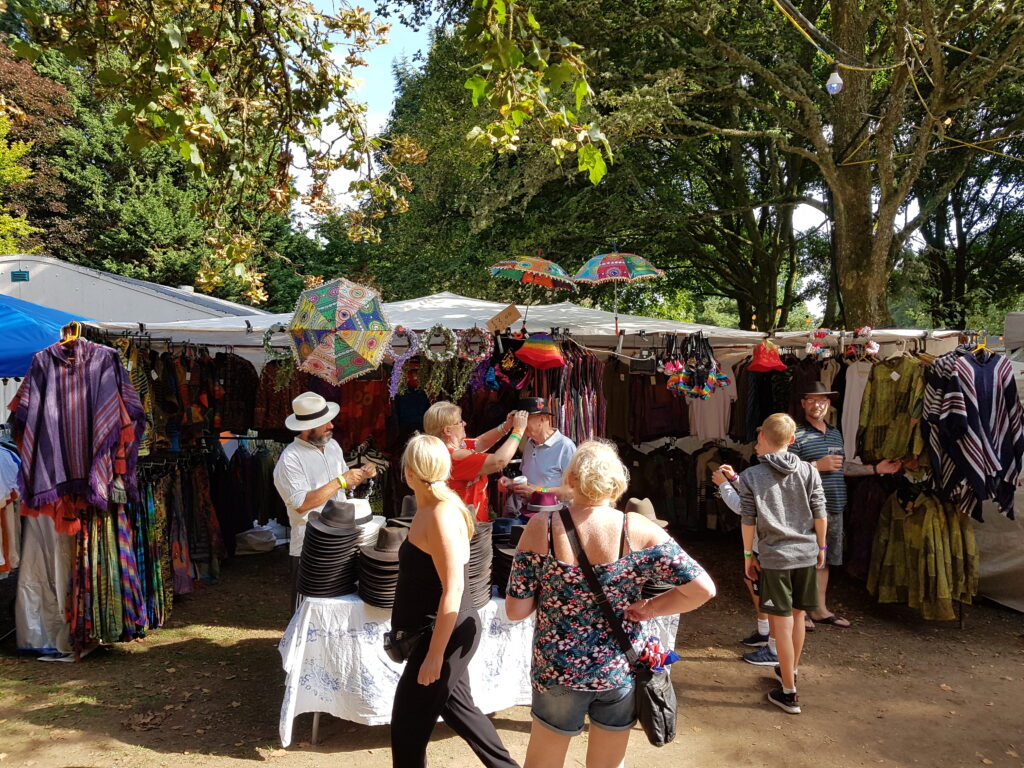 The owner Fadi has been a part of Weyfest for many years, you'll always find his stall up in the Old Kiln Stage. He provides top quality festival clothing & hats, and if you're lucky he brings along some beautiful Turkish Lamps.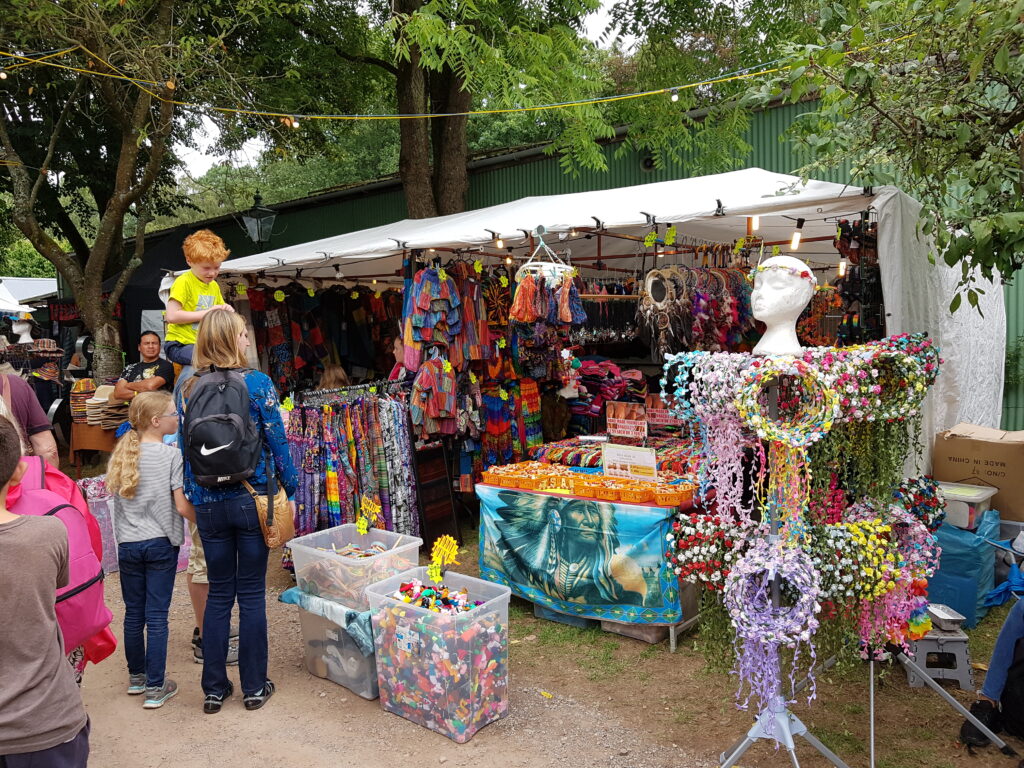 Wonderful selection of South American trinkets and festival accessories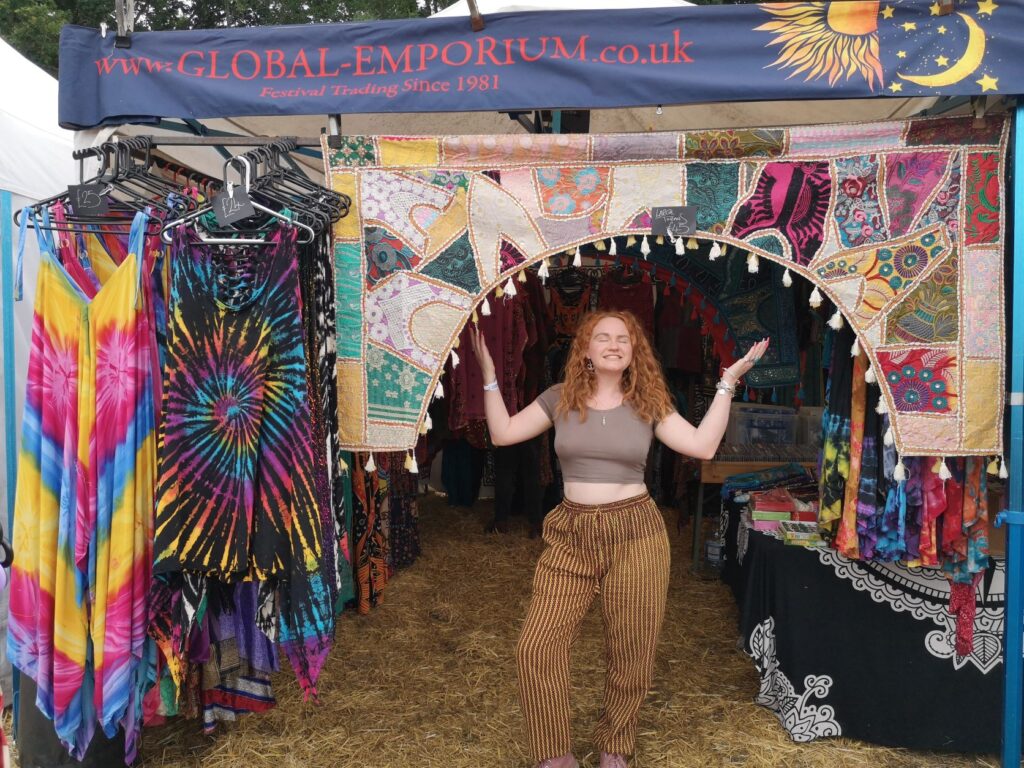 Global Emporium is a family run business based in Glastonbury. We source all our own goods, supporting the same families for over 25years! We work directly with our tailors to make sure all items are unique and individual.
CheeseOnBread was born and raised in festival fields and we bring you all the fun, smart and essential clothes and jewellery you could ever want.Whether you're after vintage Levis, recycled bandana shirts, Italian linen, stunning silver and stainless steel jewellery or cool sunglasses, we've got you covered. And if you're wondering why we're called CheeseOnBread when we don't sell cheese or bread (although we love both!), pop over to our stall at Weyfest and we'll fill you in!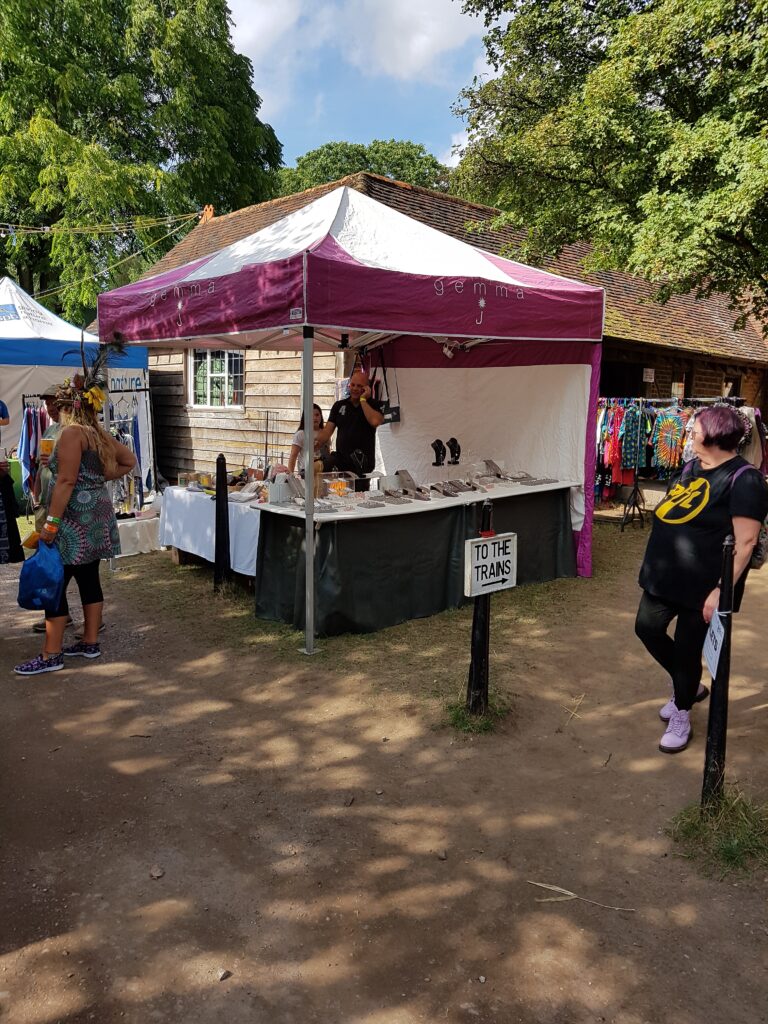 Ellie and Bea, located in the heart of historic Winchester and bringing you the latest in Ladies Fashion.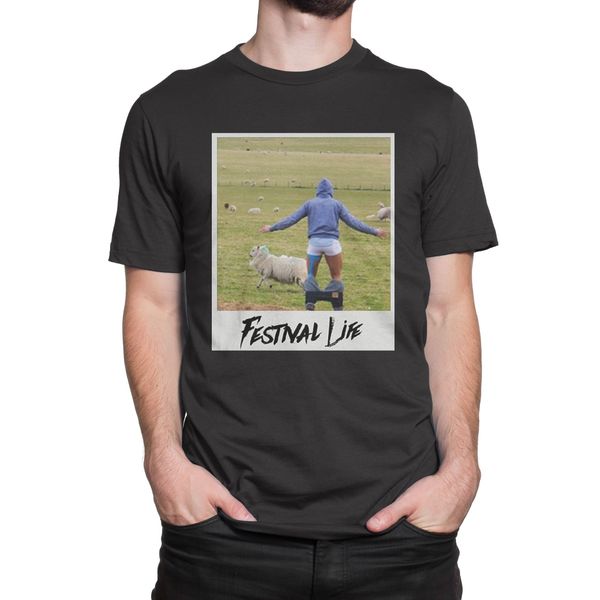 A Weyfest stalwart run by friend of the festival Brendan. Great shirts and apparel. Bespoke printing available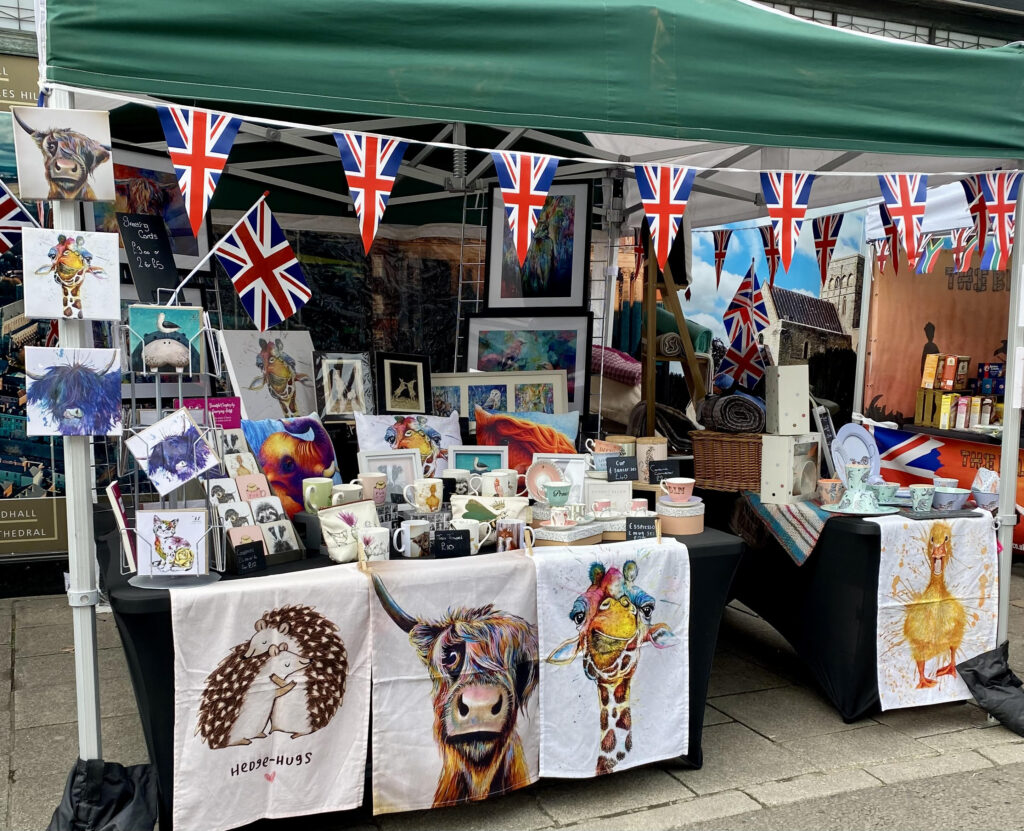 I only sell products made in the UK and I work with new upcoming artists and sell their designs which are on mugs, Tea towels, cards and coasters as well as large prints to go on the wall. The designs are very quirky which make everyone smile and are for both children and adults.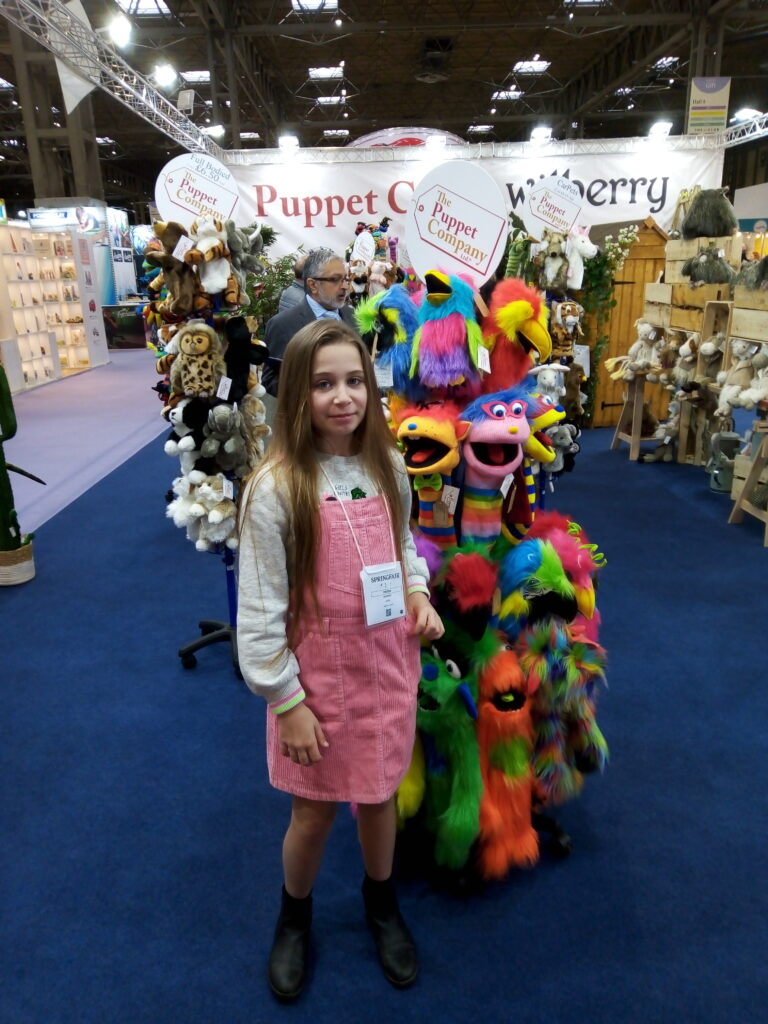 Happy Days are a father daughter team making wonderful puppets from recycled materials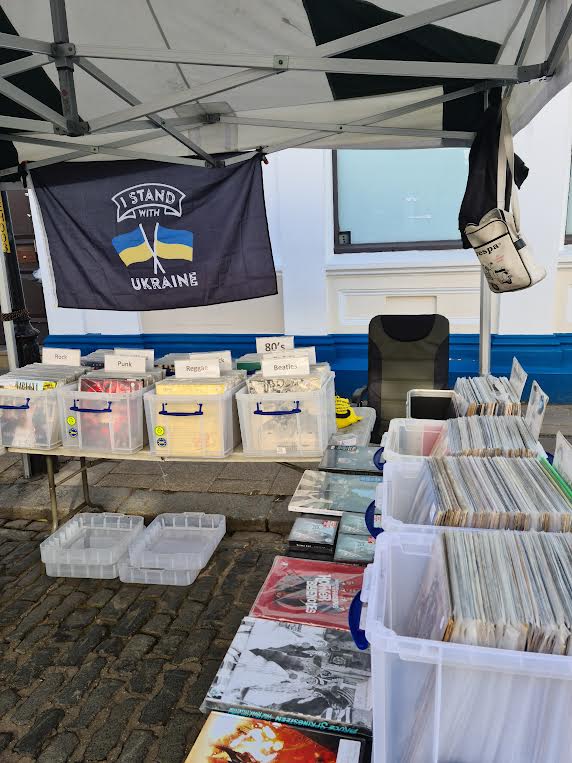 My name is cliff Simpson and I have a business called Romney Marsh records, basically I sell mainly original presses of records with a small amount of new releases, along with the records i sell boxsets, tshirts and other music related items, I am a small one man band who also has a regular market pitch at Faversham and Sittingbourne markets along with those i do various record fairs and festivals, sometimes I even find time to sleep lol 😆, I have been doing this for about 10 years now and have built up a really good reputation for selling good quality products with a smile on my face, as you may gather I am very passionate about what I do, I am based in a small village on the Romney Marsh called ivychurch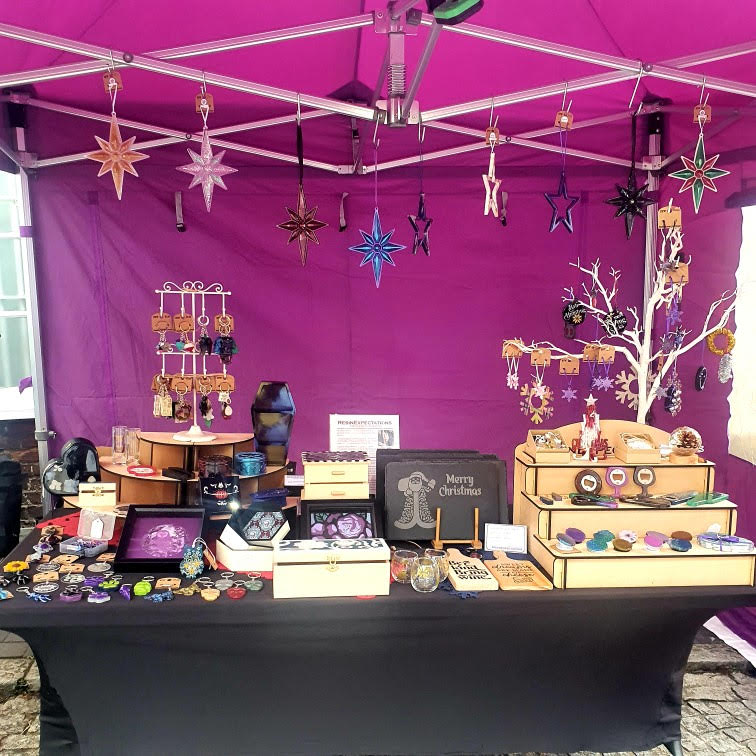 Resin Expectations. Gifts with a hint of goth. My products are predominantly handmade from resin,
but I also make products from cardstock, vinyl, iron-on vinyl, and more. Most of my products have a rock/goth theme,
from skulls to a simple colour pallet choice. You can see more on my Instagram or Facebook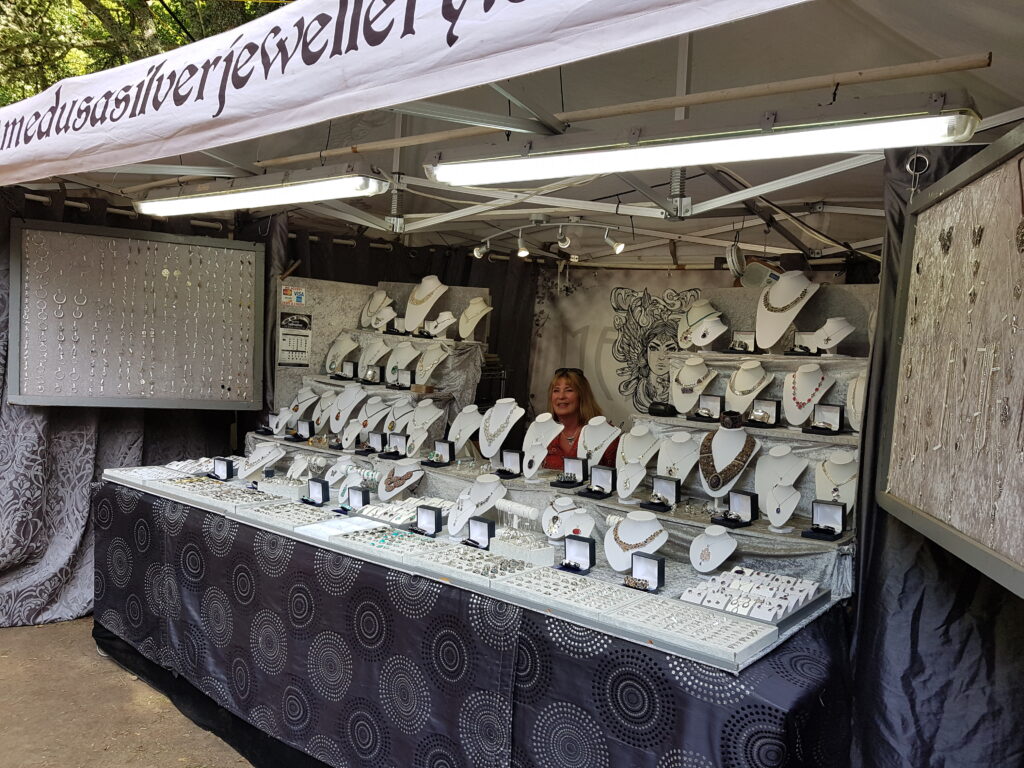 Medusa is a tiny family run business with a passion for beautiful unusual silver jewellery encrusted with amazing gem stones, lovingly designed and created by ourselves and our many friends from around the globe. We were born in the lovely Camden Market in 1996, since then we have added an array of Festivals, County Shows and Craft Fairs around the UK, I'm sure you've come across us somewhere in a field or the like! We wouldn't change what we do for anything, hard work but we love it!!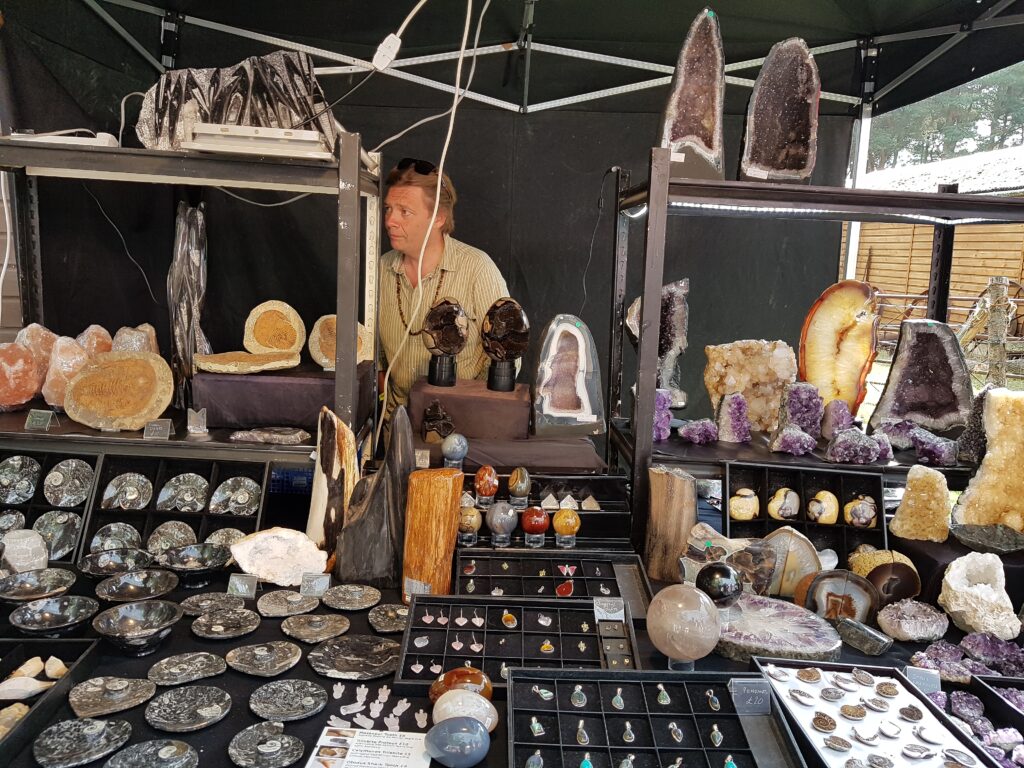 Owner George Osborn is another one of our Festival Stall holders who has been with us for many years. George is our "Indiana Jones" of Weyfest – he's often across the other side of the world in South America in our winter time sourcing his beautiful crystal artefacts that he has for sale. Younger budding collectors, do not despair, George's daughter will always do a deal with you for the small pieces that sometimes "break off".